Each week I'll be posting the 3-4 most memorable panels from the week and putting them up for a public week-long vote. The winning panels gets posted on the sidebar and earns boasting privileges over lesser panels...

Last week two Teen Titans #50 panels raced to the finish line, with Todd Nauck and Dezago's Impulse panel seizing the win by 4 votes!

This week the Marvel super-heroines take the lead, as Ms Marvel enters the fray with a record--breaking (sic) three panels, accompanied by one more She-Hulk panel. Machine Ma- - Aaron Stack's cameo is doing wonders for the book's readability!



Panel A: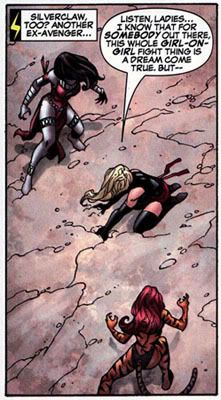 An Avengerette menace-a-trois. And two of them with claws!
(Ms MARVEL)Panel B: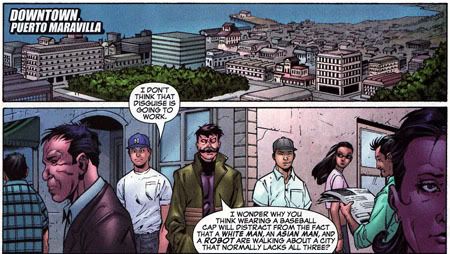 The Three Super-Amigos - A C-list heroes, B-movie, buddy flick
(Ms MARVEL)
Painful Weapon IV: A C-list heroes, B-movie, buddy flick sequel (Ms MARVEL)
Panel D:
Oh, no... you didn't! (SHE-HULK)