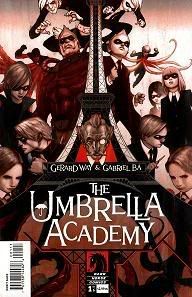 UMBRELLA ACADEMY: APOCALYPSE SUITE #1 (of 6)

Written by Gerard Way
Art by Gabriel Ba
Colors by Dave Stewart
Letters by Blambot's Nate Piekos
Cover by James Jean

Dark Horse Comics


Umbrella Academy is the new crack!

Promoted solely on the fame and crazy of its writer and creator, rockstar Gerard Way, him of the Chemical Romance fame, I expected nothing more than a dose of wacky with a side order of amazing art, courtesy of CASANOVA's Brazilian power-art-house Gabriel Ba (with a funny accent mark on the a I can't replicate right now. Gabriel Ba', Gabriel Ba').

Who knew a rockstar could write our socks off?

The Umbrella Academy is nothing sort of amazing and I'll tell you all about it:

Fathered and led by wacky wealthy and world-renowned inventor Sir Reginald Hargreeves, a.k.a. the Monocle, the Umbrella Academy consists of 7 mutant children-prodigies, the surviving few of a world-wide simultaneous miracle birth phenomenon. Raised as the thinking man's super-kids, they are now reunited in their 30s to deal with their father's apparent demise.

They are: (um, minor #1 spoilers)


00.01
(Luther, the Spaceboy)

Ruthless leadership skills, dedication bordering on inhuman, excels at everything he tries, particularly aviation and markmanship. Appreciably enhanced physical strength and resilience.

Most likely to have a full body trans-species transplant, move to the moon.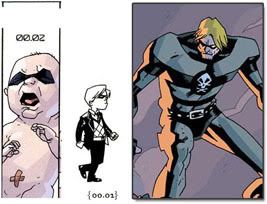 00.02
(the Kraken)

An insolent brat. Ability to hold breath indefinitely proves surprisingly useful in each mission. Not bad with a knife. Predictably reckless.

Most likely to lose an eye.





00.03
(Allison, the Rumor)

Prevaricates with appalling ease. Making falsehood come true is the power.

Most likely to cry wolf.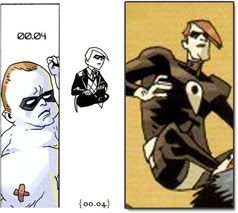 00.04
(Klaus, The Séance)

Fretful, morbid temperament. Psychic abilities allow him to communicate with the dead, levitate. Pale death-like complexion, most fitting.

Most likely to listen to Chemical Romance.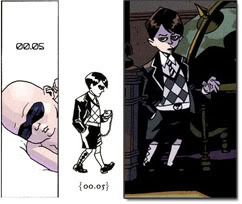 00.05
(the Boy)

Time traveller.

Most likely to disappear for 20 years.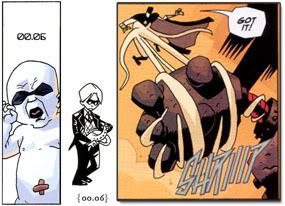 00.06
(Ben, the Horror)

Gruesome but fascinating. Crazy monsters under his skin. A parallel dimension of unsavory feeling.

Least likely to make it out alive.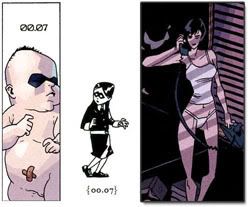 00.07
(Vanya)

No discernible talents. Some enthusiasm for music, but mediocre skill on the violin.

Most likely to write all about it.




The manic plot of the 1st issue follows the children from the uncanny coincidence of their birth, to 10 years in their future thwarting the berserker tourist-unfriendly rampage of the Eiffel Tower and then 20 years further in the future as they rejoin in their childhood home after rumours of the Monocle's death start to spread.

Gerard Way fascinates me with his writing debut. The story is fueled on the same absurdist humour that made Jean-Pierre Jeunet and Wes Anderson such great darlings; Gabriel follows suit with pacing, photography and a cinematic rhythm that reminds me of the aforementioned's cellulose mastercrafts: Le fabuleux destin d'Amelie Poulain and the Royal Tenenbaums.

All this, tied up in a ludicrous action-adventure package the likes of which hasn't been attempted in comics since Ba's last project, CASANOVA from Image. No wonder he's the perfect artistic choice for this. It's not just the writing and the art, mind you. Kudos to Dark Horse for a true dedication to quality, joining this duo with the best of each field in the industry: the most able and Eisner-friendly colourist in Dave Stewart, the greatest indy letterer: Blambot's Nate Piekos and finally everyone's favourite cover artist, FABLES' James Jean.

Hurray! Hurray, Apocalypse!

This is the comic you always dreamed of reading.


Grade: 8.5/10


Links:

Preview of Umbrella Academy #2 from CBR

Full story from Umbrella Academy FCBD issue from Scans Daily

The Kraken solo story from Dark Horse Comics Presents on MySpace