Happy New Year everyone!

continuing our Holiday Roundtable with three more questions!

Looking back at the past year in comics, what was your favourite/proudest moment from your own comics?


Nate Cosby:
I'm most proud of MINI MARVELS. Chris Giarrusso continues to confound and surprise and amaze me with his creativity and ability. I feel so lucky that I'm involved with the highest-quality writer AND artist working for Marvel right now. If I had to put a finer point on it time-wise, I was exuberantly excited that I was able to get G's interpretation of Planet Hulk/World War Hulk in two high-selling books (World Breaker and Aftersmash). Expect as many new Mini Marvels (AND Chris Giarrusso-written comics!) as I'm allowed to put in Marvel books.




Cecil Castellucci: I would say that getting to be a part of the launch of the Minx line with THE PLAIN JANES was pretty amazing. I feel so proud to be writing graphic novels for young adults and hopefully getting girls to like comics.





Cliff Chiang: I'd have to say the last issue of DOCTOR 13.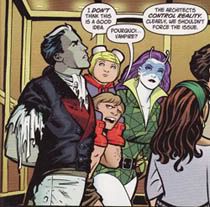 Paul Cornell: I was very proud of the ending of WISDOM, of being able to complete the story in a proper way.




Jason Aaron: Really, the whole year has been one long favorite moment for me. But if I have to narrow it down, I'd say getting my first trade paperbacks in print over the summer. That'd be THE OTHER SIDE and SCALPED Volume One, both from Vertigo.




Nicola Scott: Drawing Gail Simone's last issue of BIRDS OF PREY. There was a brutal smack down, a showy four page splash and tears.






Mike Carey: Probably that X-MEN Marauders plotline referred to earlier. I thought it hit all the beats I wanted and needed it to, and since I was manoeuvring the biggest cast I'd ever handled, it could all have fallen apart really badly. Favourite actual moment within the plotline... probably Iceman and Cannonball's last stand against the combined might of the Marauders and Mister Sinister himself. They can't win, but they go down fighting and snatch a kind of victory from a really desperate situation. It was just a blast getting to tell that story - kind of, Mutant Massacre act 2...






Christos Gage: Just in terms of sheer fun, WORLD WAR HULK: X-MEN was an absolute blast for me to work on, and I was glad people enjoyed it.