Which stories and titles stand out as your favourite from 2007?

Jason Aaron: THE IMMORTAL IRON FIST, DMZ, CRIMINAL, CASANOVA, ALL-STAR SUPERMAN, FEAR AGENT, SENTENCES: THE LIFE OF M.F. GRIMM, LEAGUE OF EXTRAORDINARY GENTLEMEN: THE BLACK DOSSIER.




Cecil Castellucci: I loved ALL-STAR SUPERMAN. DMZ. Y THE LAST MAN. ASTONISHING X-MEN. THE ARRIVAL. ROBOT DREAMS. CURSES.







Cliff Chiang: SCALPED, DMZ, GREEN LANTERN, any of the SHOWCASE editions






Paul Cornell: This year I particularly liked: The AVENGERSs titles; CAPTAIN AMERICA; Gail Simone's ATOM (and all her work); Morrison and Dini's BATMAN books; 52; DAN DARE.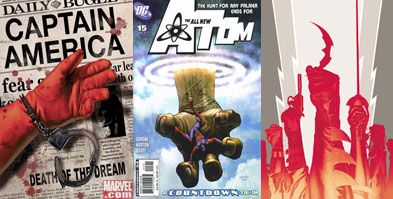 Nate Cosby: Hrmmmmm…hang on, I gotta check what came out this year. SPIDERMAN FAMILY #7 was really good (Chris Eliopoulos' Frog Thor!). Everything Jeff Parker did (X-MEN FIRST CLASS, his issues MARVEL ADVENTURES AVENGERS), everything Fred Van Lente did (MARVEL ADVENTURES IRON MAN - FANTASTIC FOUR - SPIDER-MAN, SUPER-VILLAIN TEAM-UP, FANTASTIC FOUR/POWER PACK). THE SPIRIT was REALLY good. Hmmmm…oh! ULTIMATE SPIDER-MAN keeps being good.






Christos Gage: I'll mention five that I really enjoy and think should be getting more attention: I think CROSSING MIDNIGHT from Vertigo is an extremely well done horror/fantasy book that should be on more peoples' radar. JONAH HEX continues to be top-notch, as it has been since it began. WELCOME TO TRANQUILITY is something every fan of Gail Simone should check out; it's up there with her best stuff, and you don't need to follow any other books to enjoy it. Ed Brubaker's CRIMINAL is bringing hard-boiled crime back to comics in a brilliant way. And Oni's RESURRECTION is off to a very promising start. There are many more, but I've only got so much space!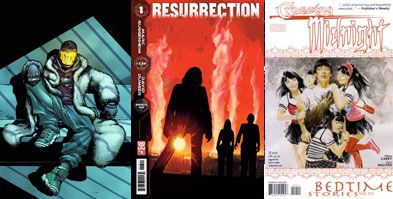 Nicola Scott: Gail's start on WONDER WOMAN and Grant Morrison's Seven Soldiers of Victory, particularly the ZATANNA and KLARION stories lines.







Mike Carey: I got a lot of pleasure out of CIVIL WAR. If you're going to do big event comics, then you should do them like this: really huge and epic, and with a real-world significance hiding behind the super-heroics.

I was blown away - as most long-term BUFFY fans were - by Joss Whedon's triumphant continuation of the Vampire Slayer's story in season eight.

I read a weird, haunting, silly but poignant manga called THE CLARENCE PRINCIPLE that I liked a lot. And I loved the first volume of the re-released Parasyte.