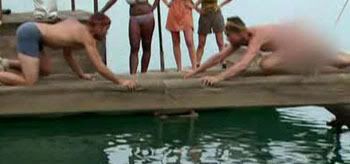 Highly enjoyable!

The reward challenge was a boring as the reward itself. Pillows? And what's with having girl-on-girl fights every week? I'd rather switch over to WWF. Dave's naked strategy may not have made a difference to the other camp, but it was good for the eye candy and the fond S1 memories. The Ogre (Denise) was the most fun revelation of the game, sitting back dumbfounded as everyone wrestled, waiting for all the survivors of the other side to come gang up on her once they've dealt with her teammates.

The treasure hunt as a continuity challenge through every episode could become fun to watch! I'm still curious for the players to explain the logic behind choosing Leslie as the abductee. Easiest person to pull over to their side? How can she be so naive as to just chat everyone up? To add insult to injury, she then goes back to camp and tells her team members how much she loves the other team and how close she feels to them. Why wouldn't they vote her off from fear of turning against them post-merge? Not Survivor material (plus, she TOLD someone else about the first clue in the previous episode! grrr, that still bothers me). 'Mom' probably came in to proselytize rather than actually try to get to the money.



Immunity Challenge... That was more interesting, if only to see Ashley the Anorexic Waitress try to lift the small axe and swing it blindly like she was aiming for a stuffed papier mache ox. The choices of who to sit out from the challenge that involves both brain AND brawn? It was fairly obvious really: Denise (the Ogre) and Leslie (the Mom). Stupid AND weak.



In the final voting, Todd the Rat-twink voted against his own conspiracy? Why? How does he ever hope to get rid of the Three Bulls if he keeps going at it like that? And to think he was the one I was rooting for. Meanwhile, the Anorexic Waitress survives against all odds, despite single-handedly costing them the mission... Good-bye Mom, you had no chance!