Retro-dated post to retro-kick off LYSAD's Survivor coverage.

This is Chicken,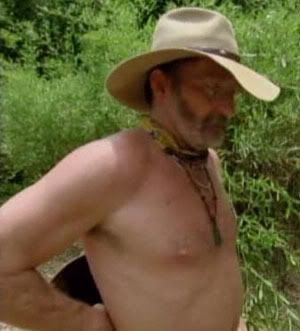 we'll obsess more over him later on in the story

Introducing our tribes:





Yellow Zhan Hu Tribe

Bionic Woman Ashlee, from the WWF wrestling arena
Power-Woman Sherea
Wicked Witch of the East, P.G.
Chicken
Monkey-Boy Frosti
Virgin Erik
Not-So Virgin Jamie
Leader Dave, a former model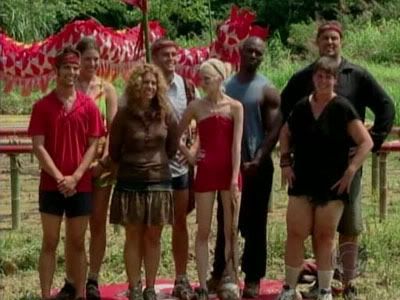 Red Fei-Long Tribe

Rat-a-Twink Todd
Background Amanda
Momma Leslie, the Uber-Christian
Leader Aaron
Courtney, the Anorexic Waitress
Gravedigger James, the Juggernaut
Denise the Ogre, a lunch lady
Jean-Robert, the Poker Man


Early favourites:

Rat-a-Twink Todd: Jean-Robert is right, he is clever, and he's bound to cause a lot of conspiracies, which we love. Plus, he looks like a hairless Hobbit next to the Poker Man.




Bionic Woman Ashlee: she dares the jungle with piercings, bleach hair and platforms.

Monkey Boy Frosti: the living cartoon

but most of all:




Steve 'Chicken' Morris, a chicken farmer. Because we love daddy bears, cowboys, Brokeback Mountain and Santa. And he's all that.

A chicken farmer, calling himself Chicken. Come on, appreciate!

And of course he gets voted off first, quite unfairly so, as well. Take out your PG voodoo dolls, we need to get a-pinching.